Salmon Finland
Unforgettable fishing trips in Lapland
Guided Lapland salmon fishing trips and memorable experiences in the surroundings of the north
Lapland Fishing Adventures
We offer full service fishing trips in Finland, Sweden, and northern Norway. The values that we strive for in our activities are high-quality services, unforgettable fishing experiences, respect for nature, and developing the fishing skills of our visitors. Our services are founded on the expertise of our seasoned guides, who are experienced both in fishing and in traveling in the wild, as well as in providing high-quality catering.
Salmon Fishing in Finnish Lapland
With over 20 years of experience, we organise salmon fishing trips in Finnish Lapland for groups of all sizes, for both novice fishermen and professionals. Our base is located near the river Muonio in Ylimuonio village, on the banks of the Visantokoski rapids.
We also organize trips to Lainionjoki river in Sweden and Lätäseno river in Finland.
Get in touch and let us provide you with an unforgettable salmon fishing experience.
Ice fishing trips
We conduct unique ice fishing trips to the great fells in Finland, Sweden and Norway.
On your trip you can expect wonderful fishing experiences under the direction of a skilled guide. On the fishing trips, you will be provided with: a guide, accommodation, a snowmobile, food, and fishing gear.
Destinations in Finland: Lakes Toskal and Luohtojávri
Destinations in Sweden: Lake Rostojávri
Destinations in Norway: Lake Iešjávri
Get in touch and we will put together an ice fishing trip that is suited to your needs.
Fishing adventures in Artic Ocean
We can arrange comprehensive full-service fishing trips to the Arctic Ocean in Norway.
Included in the fishing trip you can expect: a guide, accommodation, transport, food, fishing boat and gear, safety equipment.
Destinations: Tromsø, Skibotn, Manndalen
Get in touch and plan that unforgettable trip to the Arctic Ocean.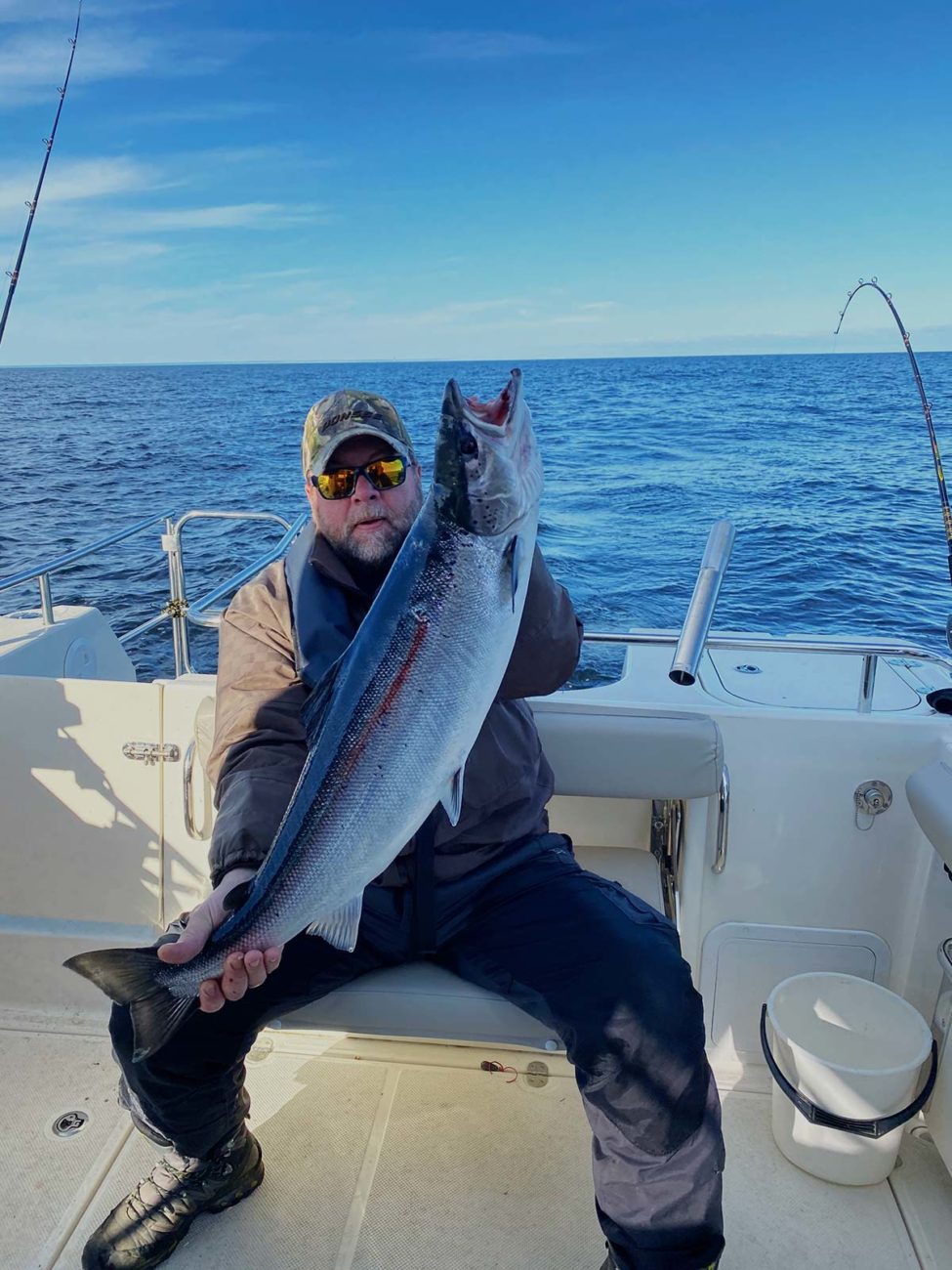 Experiences for companies
With our full-service company trips, you get to enjoy fishing, delicious food and the calm of natural surroundings. We arrange fishing experiences for companies in the Finnish, Swedish and Norwegian Lapland.
Domestic raw materials, Lappish delicacies and traditions play a leading role in the high-quality catering service provided on our trips. Our fishing guides are also professional cooks who know the art of cooking tasty meals, also on campfires. If you so wish, our sommelier will offer wine recommendations to go with your meals.
Tell us where you want to take your group and we will make it happen.
Salmon Finland in numbers
Some of the things we have picked up along the way!